SANAE BENAADIM
HAF VOLUNTEER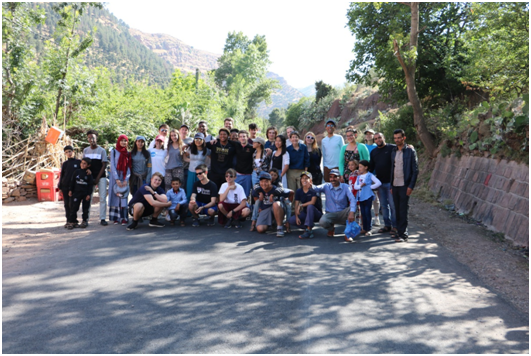 On the 15th of June, the team left HAF office in Marrakech in the morning toward Anamer village in Seti Fadma commune which is about 55 km out of the Red city. The team included Said El Bennani, HAF's Project Manager, and Hassan Ait Ouatouch, HAF's Project Assistant, Ilyas Dkhrissi (social network manager, photographer and film director), Abdeljalil Ait Ali, HAF's field Manager, Toda Bazaz and myself. The HAF team accompanied a group of American students from different universities.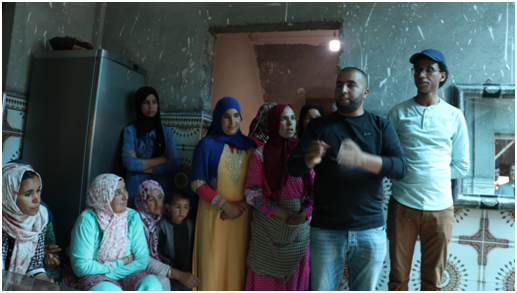 The meeting started hosting us warmly by serving tea with olive oil, honey, olives and different kinds of Moroccan sweets from a family of the village, which is a beautiful tradition in Morocco. We then headed to climb the mountain for meeting the 23 women aged between 15-60 years old in a house. We had a discussion with the women to know their demands, why they are looking forward to creating a cooperative and how they want us to help them; they said: "We want you to show us the first steps to make a cooperative because we do not have an experience".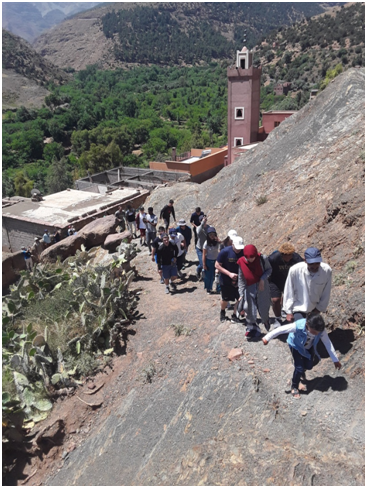 The women have mentioned the difficulties that they have faced every day. They have talked about their daily life which is only limited to doing house works. Also, girls are dropped out of school at an early age. Thus, they had to stay at home and are not allowed to go out without male permission until they get married, which means they will fall the same routine circle as their mothers. The women wished to change their situations to better conditions. The American students and the women exchanged thoughts and pieces of advice about doing cooperative, and how they can face challenges to become stronger in Moroccan communities and markets. There is a sentence that took my attention and show that the woman's heart is filled with hopes: "If there is a competition, it will be good for us". They clearly expressed their thoughts and the reasons of creating a cooperative with us. the hopes that they are looking forward to achieving them after creating a cooperative are:
Reduce dropping out of school for girls (from using incomes).
Help other women.
Do their own business.
Make their outcomes.
Make special products by using herbals and organic goods.
Present their goods in markets.
Being creative which will be a good example to their children to follow.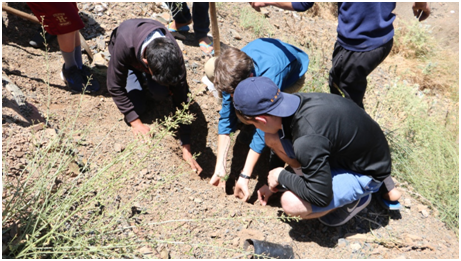 In order to get the American students closer to Moroccan communities; HAF team divided them and the fifty students from Anamer village to groups, (we made the student to plant some walnut and almond trees. Also, they used concrete examples of the almond trees that HAF planted last year. The team explained the purposes and objectives of planting trees around Morocco which lies in helping communities to have outcomes.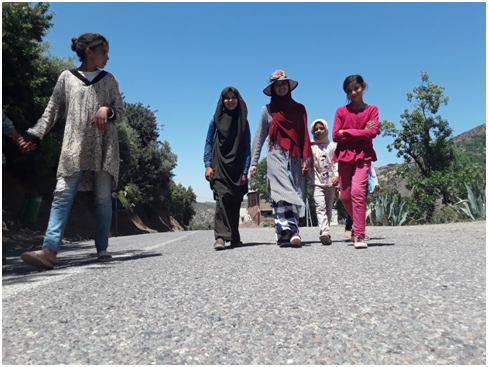 The day ended by leaving Anamer village where there are beautiful souls who are full of hopes to change their lives to better and are looking forward to having the next meeting that will explain and clear their thoughts and needs, that where HAF team will use different methods of community mapping.