On Monday February 17th, the High Atlas Foundation (HAF) began its sixth assignment funded by USAID.For this occasion, HAF enlisted an expert from the United States through the Farmer-to-Farmer program with 25 years of experience in food safety practices, Mrs. Deneen Reif. Throughout her career, Mrs. Reif has helped companies in the US, Egypt, and Kenya, both big and small, develop plans for food safety that meet their expressed needs.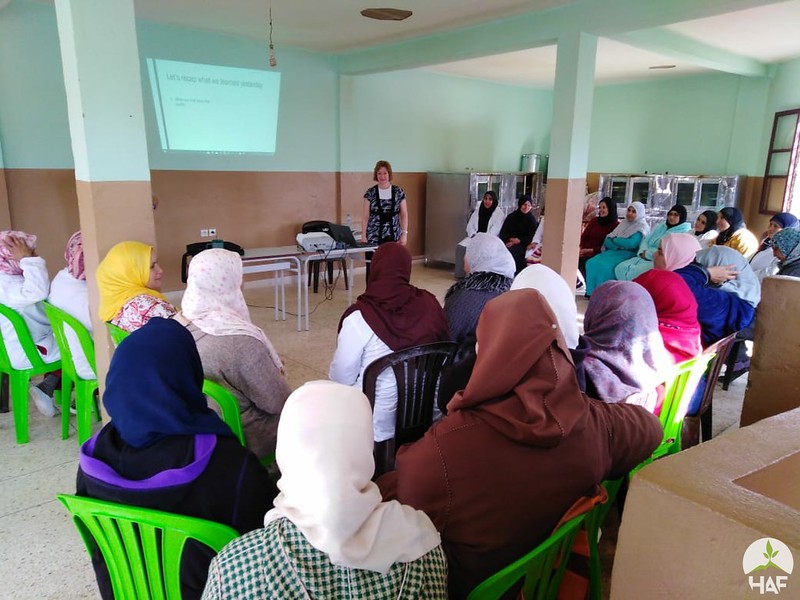 In an effort to better understand the context of her task, Mrs. Reif opted to meet the president, treasurer, and general secretary of the host organization – the Aboughlou women's co-op in Tnine Ourika, Al Haouz Province – before she began to develop a tailored training plan.
She started off her conversation with these individuals by asking general questions about their organization. The responses Rachida, the co-op president, gave to Mrs. Reif's food safety questions were often anchored anecdotally in the co-op's history.
In one such instance, Rachida said that "initially the co-op benefited from several trainings by HAF. These trainings covered many areas, including the establishment of co-ops, capacity building, and women's social and economic empowerment. After all these trainings, we decided to start a co-op because all of us involved needed an extra source of income."
Following its inception in 2015 and broad registration of members in 2016, Aboughlou's participants initially chose to work with barley and wheat because of the couscous making skills many of the older members possessed. At the same time, members also began planting saplings in a nearby nursery, where almond, calendula, and verbena already grew endemically.
In 2017, realizing the urgent need for food safety improvement, the co-op introduced health and sanitation procedures, starting with improvements in workplace conditions.
In 2019, Aboughlou hired an engineer to develop a comprehensive plan that would meet proper workplace standards for hygiene and crop labeling. The institution of this plan has been regulated on a daily basis by the president, Rachida, herself.
In a recent setback, Rachida unsuccessfully submitted a financial request to DPA (Directions Provinciales de l'Agriculture), which, she relayed bitterly, meant that the government would have to close the co-op down if they did not receive the correct certification by July this year, in accordance with a national law. Rachida further takes issue with this ONSSA (National Food Safety Office) policy, because all of its instructions are in French, thus, no one in the co-op can read them.
The workshop itself occurred on the 19th and 20th of February.
On the first day, the workshop focused on the fundamentals of workplace hygiene, based on Mrs. Reif's guidelines, concentrating mainly on the best manufacturing practices.
On the second day, participants learned about the most common food allergens (tree nuts, soy, fish, peanuts, and eggs), and how they can control and accurately represent the presence of these substances in labeled products.
Label products with all allergens contained to inform customers
Separate allergens from other ingredients
Separate products containing allergens from other products
Conduct a thorough "allergen cleansing" for all surfaces, tools, and equipment
This training also tackled challenges associated with traceability, a critical component in any food safety plan.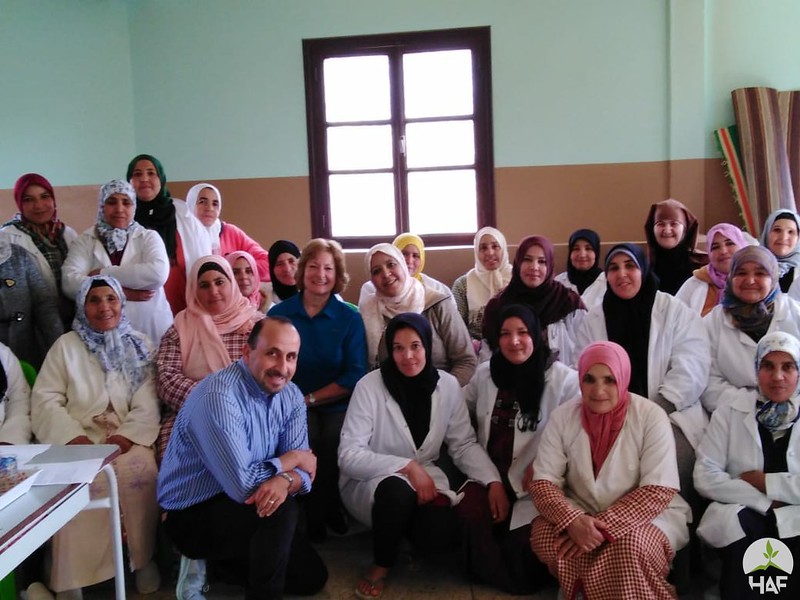 To complete this procedure effectively, first one must develop a supplier approval program and only purchase from approved providers. Additionally, one must document the source of all ingredients, with all necessary codes and supplier audits.
Thus, each batch of product would have an individual code and expiration date.
Also, all products must be able to be traced forward and backward. To ensure viability in this regard, Mrs. Reif recommended that the co-op integrate a mock recall program once a year to improve their documentation.
Another important consideration for a plan is knowledge of the three hazards of food safety, namely the biological, the chemical, and the physical.
In addition, cooperative members learned about the additional requirements for selling internationally, the Global Food Safety Initiative, and the three types of certification.
The training concluded with a list of next steps for Aboughlou's food safety plan, particularly focusing on the following aspects:
Management commitment
Product safety
Regulatory compliance
Food safety and quality training
Manufacturing facility
Supplier Management
At the end of the training the participating women expressed their gratitude and desire for more instruction in the future, especially on batch coding.