On Friday November 13 2015, Yossef Ben-Meir spoke to the ability of students at Al Akhawayn University in Ifrane to effect social change in their communities and country.
---
"You have to realize your power… and that is your right. And it is the right of every Moroccan to participate in community meetings where you live. That's the law." – Yossef Ben-Meir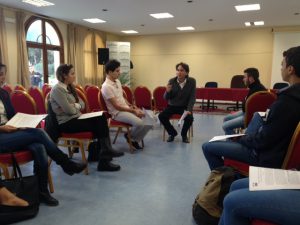 On Friday, Yossef Ben-Meir spoke to the ability of students at Al Akhawayn University in Ifrane to effect social change in their communities and country. Ben-Meir, president of the nonprofit High Atlas Foundation, engaged students from business and human development disciplines in a conversation on reaching their hopes and those of others by harnessing participatory development techniques as community facilitators of dialogue. These techniques, he said, ideally aim to build community consensus around pressing issues by accessing every voice in society.
"It's not the facilitator having answers," said Ben-Meir. "It's making sure (everyone is heard). How can we discover our dream?"
Ben-Meir encouraged student dialogue on cultural and gendered sensitivity in applying these methods. He highlighted the importance of supporting often-marginalized voices in Moroccan communities, such as those of women, youth and rural people. He urged students, as facilitators, to seek these voices in the Ifrane region.
"These techniques will help you be a good brother, sister… and effective human resources manager," said Ben-Meir. "It's about consensus and listening, where Othman's interests can be made consistent with Latifa's.
Ben-Meir asked students to participate in the fig and almond sapling nursery currently being built on university land by Al Akhawayn and the High Atlas Foundation. According to Ben-Meir, this nursery is meant to provide farmers with extra income by allowing them to receive fruit saplings for free. Eventually, the High Atlas Foundation's High Atlas Agricultural and Artisanal affiliate will add to this profit by buying tree product directly from farmers, and reinvesting money from its resale into community-planned projects in agriculture, health and education. Ben-Meir asked students to visit these communities in order to determine the most-needed development projects.
He also emphasized student participation in a U.S. Embassy Rabat-sponsored program to train students in business analysis and open market opportunities for Moroccan farmers. The majority of these farmers, according to the Moroccan Ministry of Agriculture and Maritime Fisheries, are trapped in subsistence farming of low-value, resource-intensive crops like barley and corn due to financial entry barriers to more lucrative crops like fruit trees. This program, which is currently training four students from Al Akhawayn, Hassan II University in Mohammedia and Cadi Ayyad University in Marrakesh, works with students to develop ideas on local organic crops, value-added production and community involvement in Morocco. The program focuses on students' development of skills in research, participatory planning, project management and writing, and aims to ultimately help them attain professional goals and ecologically-focused innovation.
Sofia Mohaouchane, a participating student, spoke about her creation of an organic olive oil business plan, which proposes localized marketing of high-grade organic olive oil to the U.S. Mohaouchane will soon begin collecting farmers' ideas on value-added products and development projects they would like to pursue, and will implement the High Atlas Foundation's techniques on participatory community sourcing. Mohaouchane, a business student, described the knowledge she has gained from this program so far as a practical application of business skills.
Ben-Meir praised her work, and indicated that her business plan and those of other students allow the High Atlas Foundation to pursue organic crop-focused projects with organizations like the UNDP and French bank Crédit Agricole.
"As Sofia develops and builds knowledge, we are able to act on it," said Ben-Meir. "That's the idea of learning by doing. So let's learn by doing. Let's be active facilitators."
While indicating the government's strong partnership record with the High Atlas Foundation, Ben-Meir acknowledged that engagement with government on an individual level could be more difficult for young Moroccans than for Americans, such as himself, due to the privilege he feels as an outsider and U.S. citizen. He encouraged students, however, to be persistent in their pursuit of social change.
"I believe that the (social) purpose is true, and you will succeed," said Ben-Meir. "But you will have to spend more energy, and you may get more tired than I have… But you'll get change. We need to know our power."
Ida Sophie Winter is a student at the University of Missouri and project manager with the High Atlas Foundation. She spent 2014-2015 in Morocco as a Critical Languages and Boren scholar.