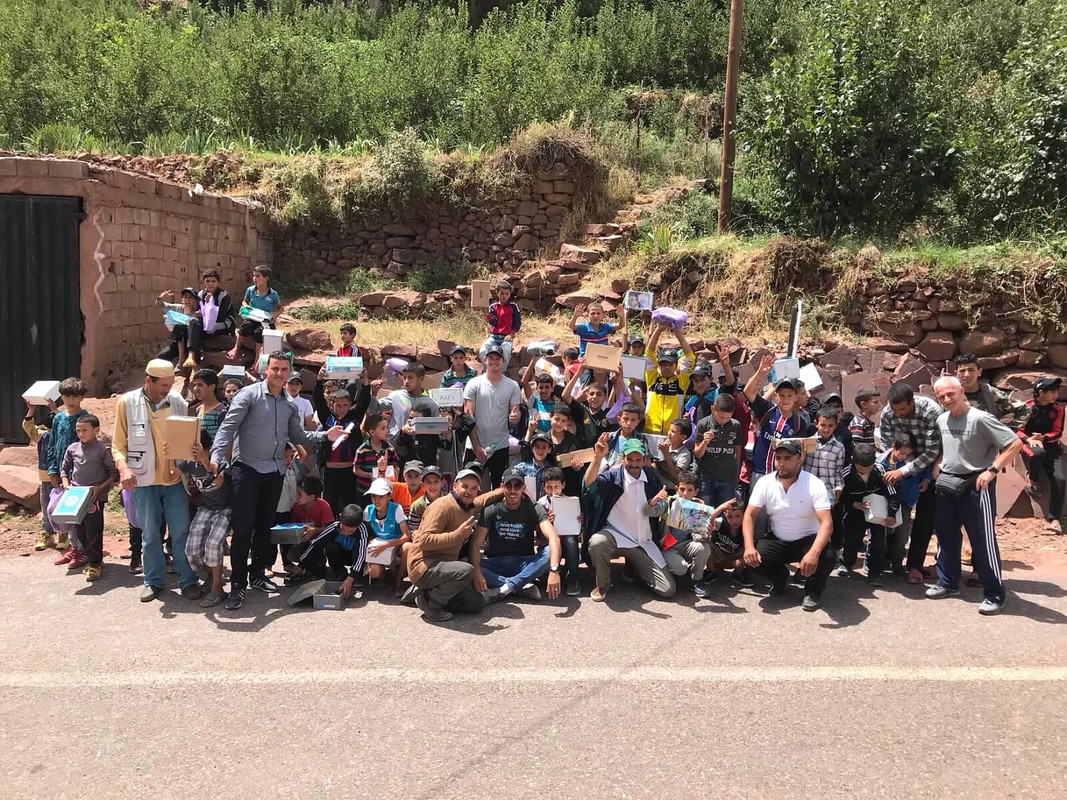 by Julie Blaze
Senior, Lacrosse
Day 3
Today was our second full day in Morocco, but our first day of service. We first met with the CEO of High Atlas Foundation, the foundation we are partnering with here in Morocco. HAF works to help communities participate in the development of their own village's infrastructure through planting trees, enhancing schools – as mandated by the Moroccan government. The CEO, Dr. Yossef Ben-Meir, spoke to us in a charismatic manner that not only showed how much he cared for the foundation, but how he cared for us as volunteers.
Dr. Yossef urged us to remember two things. The first is to not bring doubts with us when the future is unknown. Don't be doubtful of the uncertain, but rather find hope that the work you are doing is bringing a positive impact beyond your knowledge. Dr. Yossef related this to our athletic experience; don't have doubts about your next play, because it involves factors you cannot foresee. The second piece of knowledge was that implementation of law (or in any case of cultural attitude) comes not from strategies and ideas being told, but from the participation of those whom it will be affecting. This is why HAF insists on working with communities to plant trees and relay their communities' other needs to government officials. It is how Souls4Soles works with local foundations to ensure that the implementation of donations of shoes is not brought with false promises, but rather brought with hope for the future of one's community.
We saw Dr. Yossef's words come to fruition during our first day of service in Morocco. After taking a short drive into the High Atlas Mountains, we visited two villages whose inhabitants greeted us with smiles on their faces and Moroccan tea in their hands. Once we had the shoes set up for sizes and placement, each child had their feet washed and they received a pair of shoes based on their size. The first village was a little tricky for me. I could see the hesitation on each child's face when a shoe may have been too small at first, the uncertainty they had. However, once we found the right shoe for each child, their smiles grew exponentially. The spirit with which we greeted the villages, and with which they reciprocated, showed the unifying capability of the human soul. The language barrier was difficult, but singing and dancing do not have to be understood to be felt.
Leaving the villages was a challenge, but I was not sad while saying goodbye. I knew that Dr. Yossef was right, in seeing Rachid with his friends and coworkers of the villages, that HAF is helping in the implementation of change for each village. Souls4Soles is also a vehicle of that change, helping each child one shoe at a time.
With the joy and excitement of our first service day fresh on our minds, it was safe to say we were all looking forward to our second day of distribution. Our group spent the day at another small village outside of Marrakech, where we distributed more than 200 pairs of shoes. Along with our distribution we also spent time painting and decorating a wall at the local school. It was clear that the kid at heart came out in all of us when we began to draw and paint pictures on the walls.