HAF TREE PLANTING IN TIZIAN
By Florence Jordan
World Challenge Traveller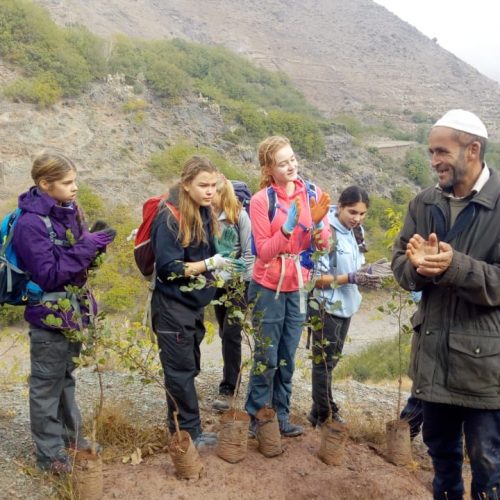 Coming from London, this project really showcased the differences between our homes, and the homes and lives of those living in Tizian in the High Atlas Mountains. During our stay, we were introduced to the differences in culture and language in Morocco compared to the United Kingdom. We were told that we would be planting carob trees with the Tizian coimmunity. We were helped to do this by the High Atlas Foundation (HAF), a non-profit organisation who helps villages in Morocco. The current priority of Tizian was income, and so we planted carob trees, which provide an important ingredient for dark chocolate (they can only be harvested after seven years). The reason carob trees were the ones chosen to plant was because there are strict environmental laws in Morocco and only forest trees can be planted above a certain altitude (this was something that we were taught about during our workshop with HAF).
We were only one of the many volunteer groups working with HAF, and not only the fact that we raised the money for the trees, but also that we managed to plant fifty-nine of the four hundred within one day, made this an extremely interesting and captivating experience. Everyone in Tizian are so kind and welcoming, it was really nice to know that what we were doing is going to help them.
In our workshop with HAF, we were taught a lot about Moroccan culture, and a few words of Arabic, however we couldn't use this small amount of Arabic in Tizian (though some of us tried to) because they speak Amazigh, the second primary language of Morocco. Despite the language barrier, we still managed to play games with the village children, such as volleyball, the hokey kokey, heads shoulders knees and toes, and countless other songs and dances (as well as them singing us their national anthem). We did manage to communicate with the children on a very basic level, finding out about their names, ages and siblings, and we gave them friendship bracelets that we had made on the plane.
Even though all this was difficult because we didn't speak the same language, it taught us an important lesson- that it doesn't matter who you are, or where you're from, because kindness and playing are universal. Overall, this trip was so fulfilling, and staying in the village and spending time with the people made it such and enriching and exciting experience. I'm certain that I speak on behalf of everyone who came on the trip when I say that we are so grateful to the strangers who took us into their homes, and the High Atlas Foundation who gave us the opportunity of a lifetime. Thank you all so much.