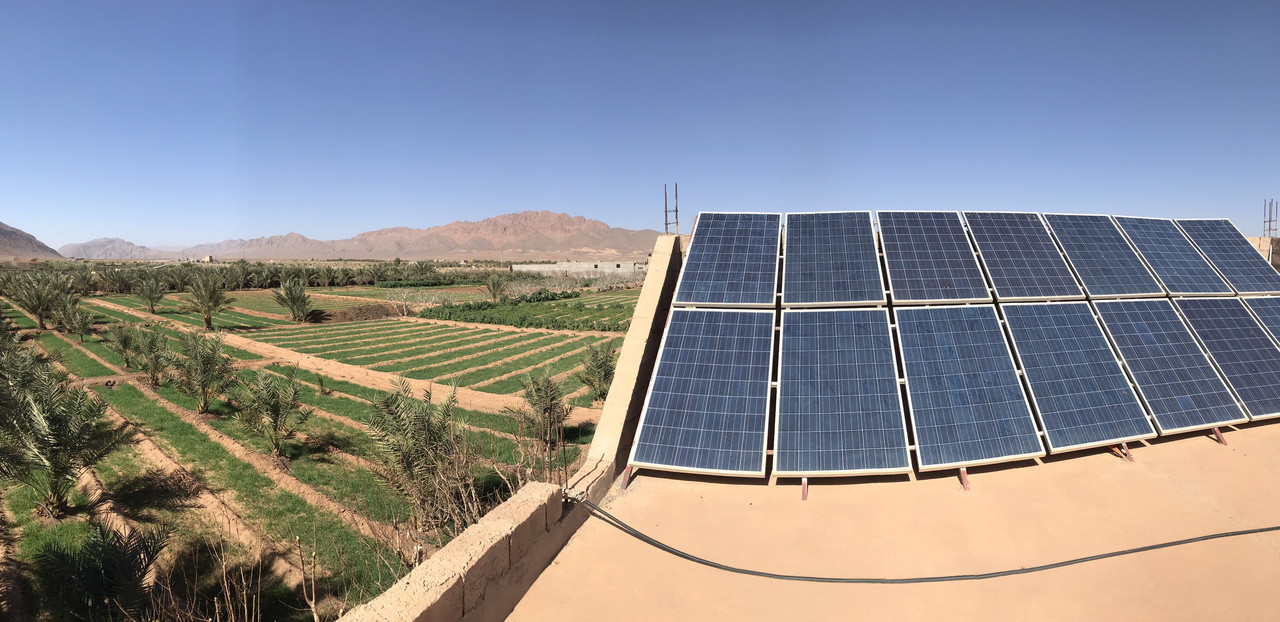 At times, contemporary development strategies can appear generic, or disconnected, with potentially very broad, vague language.  The word "Green" has been tossed around so much in sustainability and community-based project proposals, that it may start to lack any substantial meaning.   After spending two weeks meeting with cooperatives and farmers and seeing concrete examples of this broad idea in action, it is clear that Moroccans are embracing changes in the agricultural sector, and are investing in their communities to promote a shared value system that centers on trees, native medicinal plants, ecological sustainability, economic growth and true vibrancy.  They are redefining and reclaiming what it actually means to be green.
The men of the Albissat Al Akhdar Cooperative in Bouarfa, led by their smiley and focused president Yassein, in a small, makeshift area behind the local pool building, have created an impressive plant nursery that produces trees, herbs and ornamentals using locally gathered seeds and cuttings.  With no formal training and very basic resources, these three men have been multiplying their plant stock, for sale in the community, and for use in landscaping installations.  They speak with pride about what they have already accomplished, and they sparkle with excitement when they explain the project that they are about to embark on.
The government has given the cooperative a small plot of land just outside the center of Bourafa to expand its plant nursery into a proper business, with a greenhouse for propagating plants and trees and a retail space to welcome customers.  They have named this new and expanded venture Green Hands, as the goal is to inspire their community to connect with plants, experience growing for themselves, and beautify their collective landscape. The business model is based on inclusivity, and the greenhouse will offer a wide variety of options for its customers, from small, basic herbs, to rose bushes, to productive fruit trees.  All of the plants and trees originate from the Bouarfa area and are naturally adapted to the climate and will thrive.  Eventually the cooperative would like to offer classes and workshops on plant care and uses.  The men have developed their skills and are ready to break out of their tucked-away growing space into a professional, productive commercial setting. They clearly find this work interesting and rewarding and want to make growing plants, and the gratification that comes with it, accessible to all.  As Green Hands, they are shaping the values of their community and are prioritizing plants and empowering people to foster a connection with the natural world.
The Tizizoua Women's cooperative in Figuig, a small town on the now-closed Algerian/ Moroccan border, is a clear example of a community-based effort that demonstrates the notion of greening and sustainability in rural Morocco.  The cooperative, fifteen members strong and regarded as a leader in the area, has been raising bees for over a decade.  When their hives started to drastically dwindle, due to lack of food and the pesticides used by local farmers, they were forced to relocate the bees, which was inefficient and costly.  Although they were still able to produce high-quality honey, the set-up was far from ideal.
This all changed when the local government donated to the cooperative a four-hectare plot of land in an undeveloped area of Figuig; they may utilize it for free for as long they would like.  The land is currently all open and completely barren with gravelly soil, a rough road to access, full sun and almost zero natural vegetation, yet the women of the Tizizoua cooperative see it as a great opportunity to green and diversify the date-centric ecology and economy of Figuig.
Intent on changing the landscape and agricultural inclinations in Figuig, on this land the women will create a medicinal plant nursery, to serve as a safe and substantial food source for their bees, and to generate revenue once harvested, and processed.  Having all been born and raised in Figuig, and choosing to remain after so many others have emigrated to larger cities, these women are deeply connected in the community and are committed to making this enterprise successful and productive. Although still in the planning stages, they have visions of increased honey production, a herb drying facility, educational events, and value added products for export throughout Morocco, and possibly even abroad.  The Tizizoua cooperative is undeterred by the grand scale of the project, that will involve a major transformation of the land, and have faith in the resources in Figuig.  They see the blank space as a pallet to build habitat, promote life, generate revenue and boost green spaces in the remote, yet beautiful, unique and spirited oasis of Figuig.
Heading west from these two communities and emerging into lush countryside, with gentle rolling hills and large fields of wheat and fava bean, in the city of Fez, is the Tree Nursery at the Center for the Protection of Children.  While only three years old, the nursery is already a well-run and productive operation.  Through programming with the High Atlas Foundation, the nursery propagates and nurtures young trees, which are then distributed to rural communities, where the demand for trees is high, but the technical skills and resources to start them are limited.  At the nursery, there are thousands upon thousands of young fig, pomegranate, olive, and almond trees.  And, with three greenhouses close to completion, even more trees will be heading into communities soon.  The nursery in Fez is a high functioning model for how the lofty goals of the green plan can actually be met.  When walking around the nursery grounds and seeing endless clean and efficient rows of young, well-cared-for fruit trees, the vision of a billion making their way into communities seems so much more attainable.
Through volunteering with Farmer-to-Farmer and meeting the dedicated and proactive individuals responsible for these creative projects in Morocco, the premise of GREEN development holds so much more weight and authenticity for me.  I have a greater understanding and can recognize the shifts in planning, crop selection, and decision making.  Through this assignment, learning about projects and strategizing about nursery layouts, discussing greenhouse management and brainstorming about budgeting, I now have a new working definition of what a Green plan actually is.  The determined, hard-working, and committed farmers in Bouarfa, Figuig, and Fez have brought the term out of abstraction.  Through their actions, they reveal that the Green Plan for agriculture in Morocco is practicing conscious land usage, generating biodiversity, planning for the future, honoring beauty, promoting connections and inclusion, feeling pride in community, building small, local businesses, converting blank spaces into productive ones, sharing skills and knowledge, using plants as medicine, recognizing the rhythms of nature, collaborating, getting hands in the soil, fragrant herbs in bloom, robust fruit trees, and buzzing bees.