Dear Friends,
My name is Martine Roberts and I am the newest member of the Board of the High Atlas Foundation (HAF). I am writing to you from Marrakech, Morocco, where I have spent the last month immersing myself in HAF's mission and current initiatives. As a Moroccan-American woman, I am honored and grateful to be a part of this wonderful organization and I would love to take this opportunity to share my experiences from the last month with you and to invite you to participate to expand our reach and impact.
HAF is involved in a diverse constellation of projects throughout Morocco to initiate and support societal and environmental changes through the education of the members of rural communities. HAF works to teach the value of sustainability and participation in society to empower community members to improve their own living conditions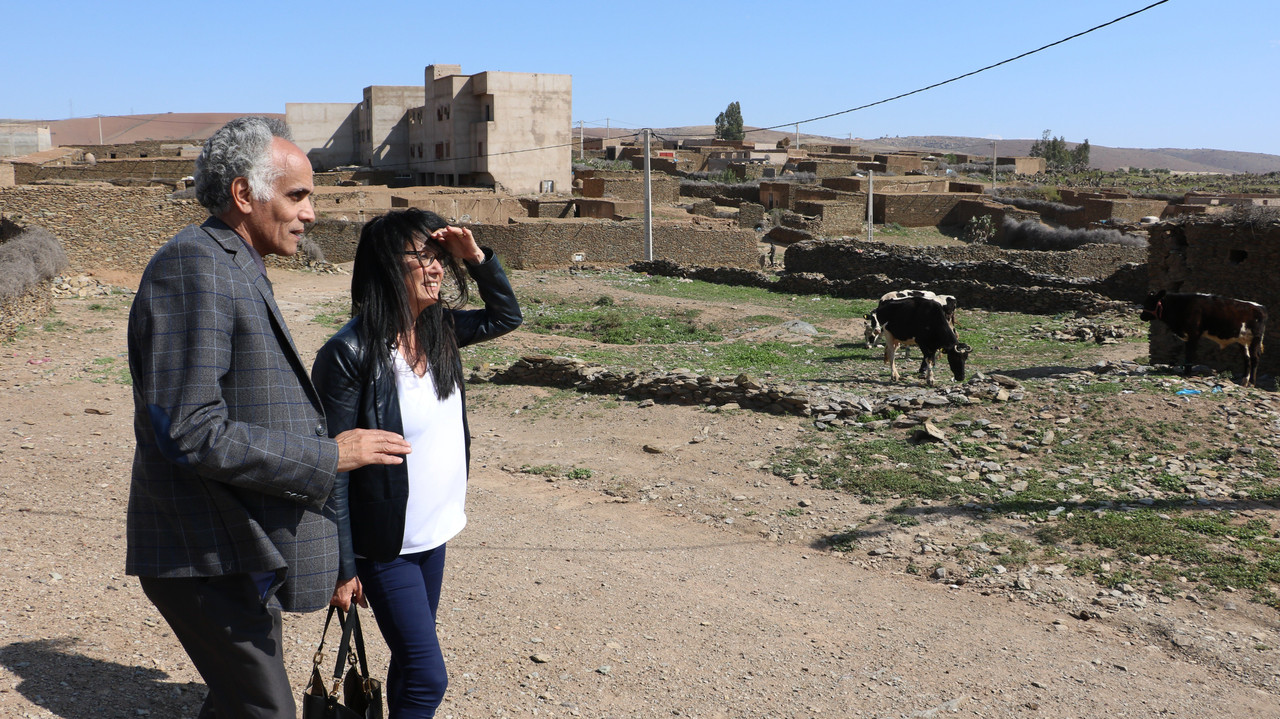 Field visit to a future tree nursery site.
I had the privilege to visit a few rural primary schools where a team from HAF taught the children the environmental impact of trees in the biosphere. These sessions culminated with the planting of dozens of endemic trees in the schools' courtyards, provided for free by HAF's nurseries. The excitement of the children was palpable as they know the trees will not only beautify their playgrounds but also provide shade, oxygen, and delicious food including almonds, pomegranates, and olives.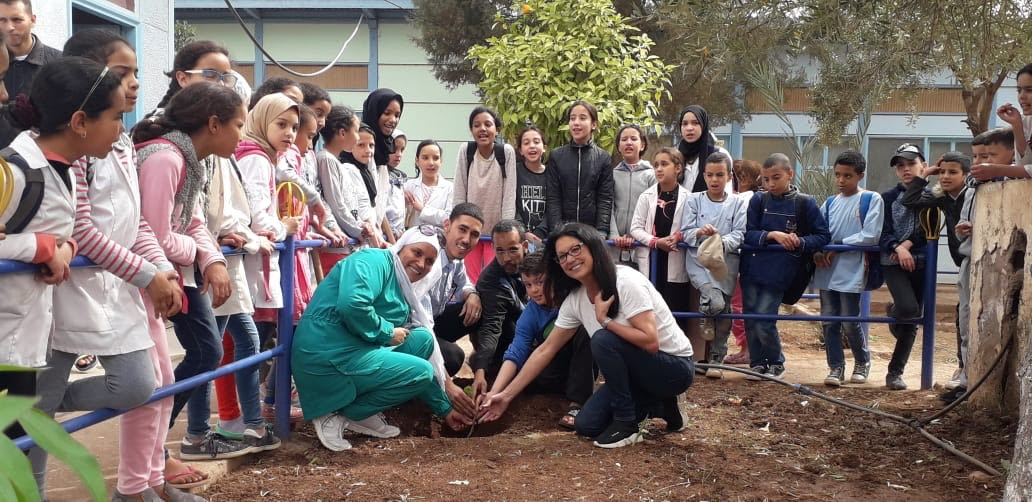 Planting an argan tree at a primary school, partnering with FRÉ.
In addition to improving the natural environment, HAF is taking an active role to challenge existing societal preconceptions about the role of women in the social hierarchy. The rate of literacy of the women in the rural areas served by the foundation is the lowest among the population. To combat this reality, HAF has adapted a program for local women and girls called "Imagine" that utilizes workshops to instill practical and vocational skills to build self-confidence, to foster self-worth, and promote self-discovery among women and girls in the community.
I am pleased to report that the dozens of workshops have taken place and are making a positive impact in the community. It will take time, but these workshops serve a dual purpose. First, they inculcate the belief among rural women and girls that they are individuals with unique talents, desires, rights, and agency. Second, they educate men about the importance of female rights.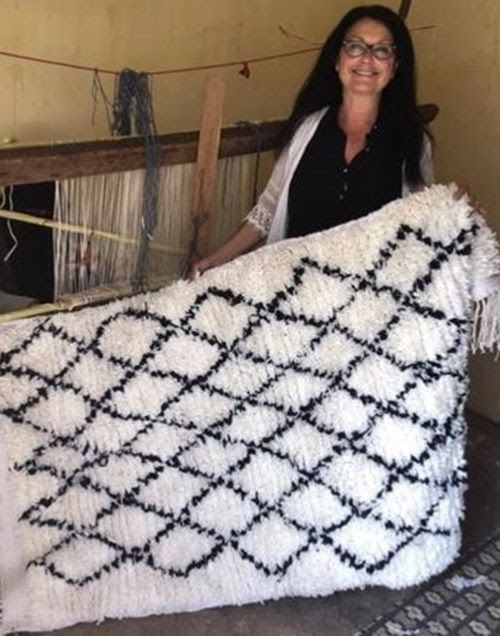 The first carpet woven by a new women's cooperative at Anamer village, Al Haouz province
HAF is laying the groundwork to help improve the economic capacities and standing of women, to grow their confidence as active participants in their families and society, and to reduce societal ills such as early and/or forced marriage.
HAF is a cross-border foundation between the USA and Morocco. The foundation's goals have been constant since 2000, when it was created by former Peace Corps Volunteers aiming to make sustainable prosperity a reality by training communities to integrate a participatory, agency-based empowerment approach into human development initiatives in Morocco.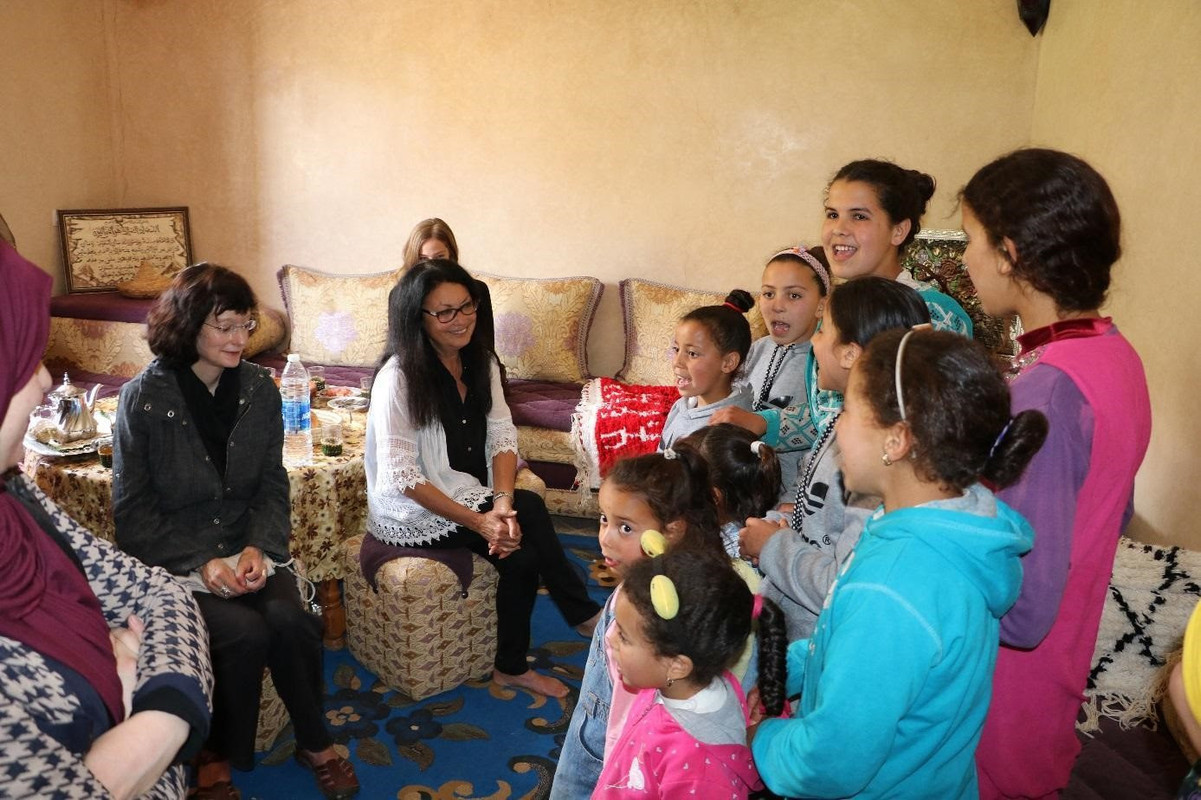 Village children singing a heartfelt song of thanks at the end of the visit by Brooke Isham, USAID's Mission Director, students at University Cadi Ayyad's Career Center, and HAF's team.
HAF relies exclusively on grants from international organizations, companies, and individuals. It is only with this support that HAF is able to continue its project of empowerment for the underprivileged youth, men, and women of rural Morocco.
For this reason, I would love to invite you to make a donation to HAF via our website, where you have the option to choose, should you wish, which causes you would like your donation to go to.
Thank you,
Martine Roberts
Board Member, High Atlas Foundation
haf@highatlasfoundation.org
P.S.: If you live in Morocco or are planning a trip to visit in the future, we would welcome the opportunity to show you what the impact of your contribution looks like on the ground.
Follow HAF on Instagram, Facebook, Twitter, Flickr, and YouTube!
High Atlas Foundation has earned the following badges on GlobalGiving: